Ethereum hashrate reached a new record, miners are 100% operational
Recently, the hashrate of the Ethereum network has reached a new all-time high. This happened thanks to the return of miners to work after the repression by the Chinese authorities.
Recall that on May 19, 2021, the Ethereum hash rate peaked at 632.8 Tx / s, which followed an increase in network activity spurred by the achievement of ETH's record historical mark above $ 4300.
However, on May 21, the hash rate began to fall, due to the Chinese authorities, who introduced serious restrictions on mining operators.
This move not only led to a drop in the price of Ethereum (ETH) from $ 3399 to $ 2502, but also damaged the network hash rate, which fell to a three-month low. This happened because the miners had no choice but to turn off their mining rigs and relocate to countries with loyal cryptocurrency legislation.
Fast forward to September 2021. The number of ETH miners in China has decreased, and many of them seem to have resumed operations in other regions, as evidenced by the increase in the computing power of the network.
Official repair site Asic for mining cryptocurrencies in Russia.
According to Etherscan, the network hashrate reached a record high of 715.4 TH / s on Sunday.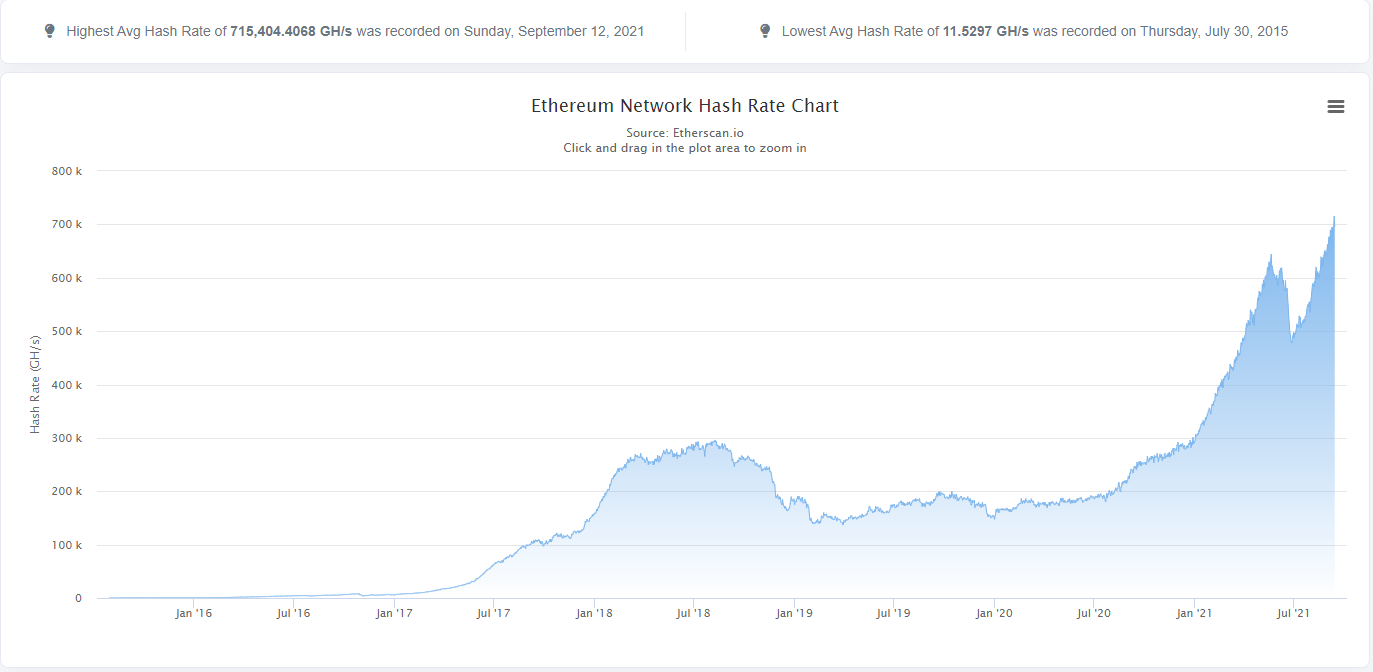 Ethereum miners have been showing resilience over the past few months despite numerous FUDs in China and the recent London hard fork early last month.
An update that is integral to the network's transition to version 2.0 will eventually lead Ethereum to swap Proof of Work (PoW) for Proof of Stake (PoS).
The London hard fork was implemented to reduce network fees by eliminating an algorithmically determined baseline fee associated with processing transactions.
According to Dune Analytics, more than 290,000 ETH ($ 967 million), previously transferred to reward miners, have been burned since the implementation of the London hard fork.
Many believed that after the update, there would be a massive exodus of miners from Ethereum to related networks such as Solana and others. Contrary to popular speculation, Ethereum miners remain committed to the network as investor demand for non-fungible tokens (NFT) and decentralized applications (DeFi) continues to grow.
Indeed, NFT and DeFi are currently the most popular niches in the crypto space, with billions of dollars in trading volume and total blocked value.